under the influence, oil on canvas 
48"x54" & 24"x48 oil on panel or canvas
These images are inspired by Dinosaur Park, an important UNESCO World Heritage site, and the Drumheller region of Alberta. I first visited the area in 1983 and have been (positively) haunted by the landscape ever since. It has taken various forms through drawing, painting, printmaking and installation and there has always been a sense and presence of human forms and history that emerges from this awesome landscape. Under the Influence refers to this constant presence of the source -   that I continue to return to. This series of work is still in progress and may never end. The final vision is to build floating frames with motion sensitive lights embedded within the frame that will pulse in different areas in response to viewers approaching the canvases.
In 2017 I was able to spend 2 weeks at the park and in 2020 was to begin a longer visit over several months to undertake intensive artistic and cultural research at the park. Due to Covid these plans have been postponed, but it will happen!
I began this work in the summer of 2018 at Metchosin International Summer School of the Arts where I undertook a mentorship with Canadian painter Harold Klunder. The title speaks to two ideas; one is that the creation of this abstract art is intentional as a vehicle of expression versus accidental, uncontrolled or random. The second has to do with dealing with constraints. In 2014 I created a series of abstract paintings during a very difficult time recovering from vertigo. During one point I had a frozen shoulder, and I could only create short brushstrokes. However, as the shoulder and vertigo improved the paintings increased in both dimension and brush stroke. So, in this current series of post-vertigo works I was able to fully work with the paint as I intended, versus being constrained physically by a frozen shoulder and vertigo.
oil on panel with velvet and embellishments; installation
various sizes, approximately 18"x24" 1991-2004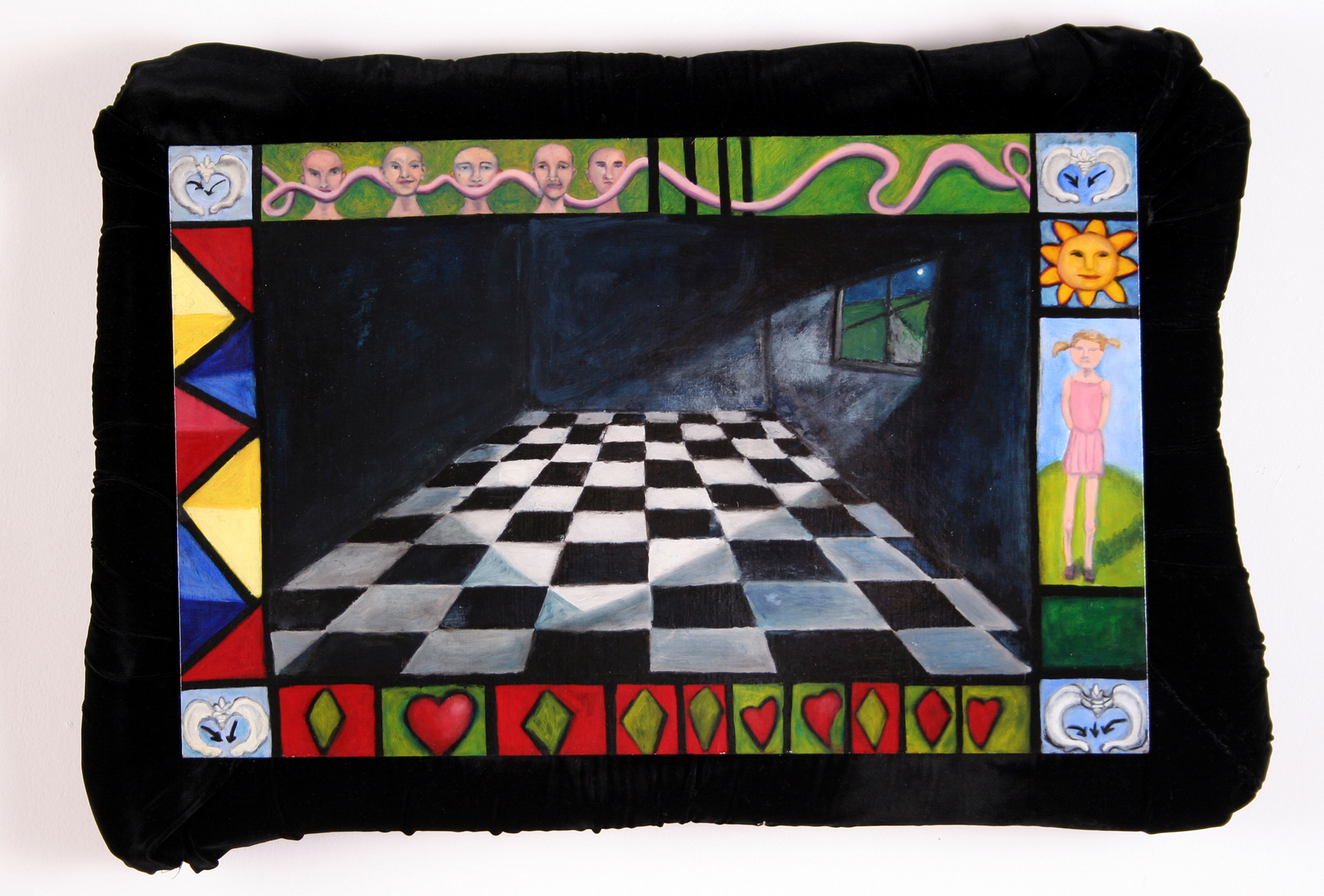 The title Between the Lines is meant both in a literal and figurative sense and suggests that one's perception of meaning is necessarily subjective and according to each individual. Our communication and understanding of the world is mostly unvocalized; meaning is filtered through gesture, symbolism, language, colour and form - all uniquely informed by one's frame of reference created through past experiences. The geometry of the lines defines pictorial and story telling space while also representing how layered our thought and memory processes are. There is no such thing as stasis - we sort, store and retrieve information and memories continually, even simultaneously. 
coded zones, acrylic on panel